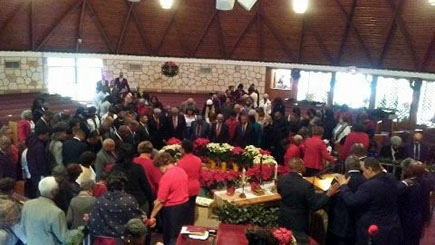 Services Schedule
Sunday Church School: Sunday 8:30 am
New Members Class: Sunday 8:30 am
Sunday Praise Service: Sunday 9:45 am
Sunday Morning Worship: Sunday 10:00 am
Bible Study: Wednesday 7:00 pm
Prayer Meeting: Wednesday 8:00 pm
Communion: 1st, Sunday
Ordinance of Baptism is preformed every other fourth (4th) Sunday, at the close of 10:00 am Worship Service.
ANNOUNCEMENTS
For information on Disaster Preparedness and Response please visit www.lottcarey.org website.
WITH GOD'S HELP WE CAN DO IT!! Our 2018 Faith In Action Charitable Capital Improvement Campaign (FACCIC) was launched on January 1st. Pledges may be submitted weekly, monthly or in one lump sum. So as you pray about your gift this year remember, Philippians 4:6 "Be careful for nothing; but in everything by prayer and supplication with thanksgiving let your request be made known unto God.
Pledge forms are now available for for the launch of our 2018 FACCIC!
BLACK HISTORY MONTH: During the month of February the church school along with other ministries will be honoring a host of notable African-Americans in history.
"Go Red Sunday": Sunday, February 18th is an observance of Women and Heart Disease...wear your red! Information will be available from the American Heart Association.
VIRTUAL TEA: Make a sacrifice to pray daily during the Lenten Season. Beginning Ash Wednesday, February 14th the Missionary Ministry invites you to 7 weeks of prayer. Each week we will pray for Sacrifice, Forgiveness, Deliverance, Healing, Commitment, Transformation and Power. See a Missionary today for a Virtual Tea Party card.
This week our prayer for Forgiveness Psalms 51:1-13 KJV.
REMEMBERING OUR HERITAGE: We have some brilliant young people here at our church and they sill present "Why We Celebrate - Honoring Past and Present Legends", Friday, February 23rd at 7:oopm in Fellowship Hall. Everyone is invited to attent.
SAVE THE DATE: Thursday, March 15th PSE&G's True Diversity film series will be presenting a documentary "Girl Rising" at NJPAC 6:00pm admission is free rsvp is required. NJPAC, Victoria Theater, One Center Street, Newark, NJ 07102
Installation Services for our Senior Pastor Elect Shawn T. Wallace, Sr. will be as follows:
Sunday, March 18th 10am worship service guest speaker Rev. Dr. Evan Spagner. Immediately following a fellowship of appreciation and thanks honoring Rev. Spagner as our Interim Pastor for 22 months.
Monday, March 19th 7:00pm our guest speaker will be Rev. Tracey L. Brown of Ruth Fellowship Ministries, Plainfield, NJ
Tuesday, March 20th 7:00pm our guest speaker will be Rev. Jeffrey Bryan of Bethlehem Baptist Church, Roselle, NJ
Wednesday, March 21st u:00pm our guest speaker will be Rev. Dr. Lester W. Taylor, Jr. of Community Baptist Church, Englewood, NJ
Sunday, March 25, 2018 at 4:00pm installation service speaker to be announced.
Registration starts Scotch Plains Summer Camp and applications being accepted for campt counselors. For more information log onto the town website. www.scotchplainsnj.gov